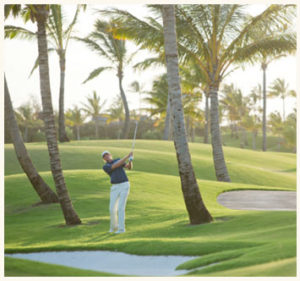 Built by Tom Weiskopf in the year 2011, the private golf course at the Kukui'ula Club, is a stunning and unique course that continues to captivate members and guests.
Its is no big secret that the landscape, artificial or natural, of a golf course is one of, if not the, most important feature of a course.
At Kukui'ula, the landscape is a bit different and may be a refreshing change of pace for any golfer.
The club prides itself on its farm-to-table dinners, with freshly grown crops to compliment meal-time. Where do they grow this food? Right on the golf course! Instead of losing your ball in a grove a grass, you may be forced to play off the macadamia nut grove. There is a still a lot of fairway grass, a particular challenging variety called Bahia grass.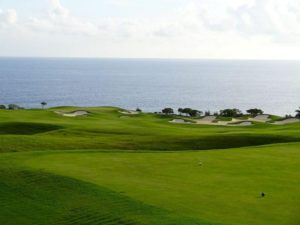 In addition to crops, there are also a wide variety of trees to challenge the player including Royal Palm and Chinese Banyan. It would appear that whomever commissioned this course was a bit a botany geek.
There is more to the course than just stunning foliage. Tom Weiskopf took special care to artistically sculpt each of the bunkers. They are all filled with pristine white sand and while generous on the fairway, they are still penal enough to make the player think about their shots.
In addition to bunkers, there are also plenty of water hazards to be had at the club, and while much of the course offers stunning views of the largest ocean on Earth, the Pacific Ocean does not come into play on any of the holes.
No doubt the Kukui'ula will continue to captivate for many years to come.
****
The Club at Kukui' ula,
2700 Ke Alaula Street,
Koloa,
Kauai,
Hawaii (HI) 96756,
USA