Golf is a great game. One day, a player can be excellent and the very next he can be a total failure. Such drama. One criticism of it all though is that it can take such a long time to play! That is where courses like the Links at Divi Aruba come in. A short and sweet course guaranteed to challenge you.
Built by the Floridian architect Litten/Viola J.V, the Links at Divi Aruba is a nine hole course inside of the Divi Village Golf & Beach Resort, a luxury community. Do not let its length lull you into a false sense of security. Being a links course, Divi Aruba is right upon the course which comes into play with beautifully fashioned lagoons and water hazards. The ocean breeze offers yet another level of challenge, as one can expect.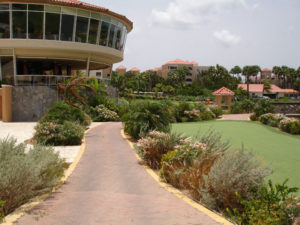 The course is open to the public but Club members and resort guests will often get the choice tee times. The course offers a pro shop and a two restaurants to choose from, both of which are highly regarded. The course is also located in close proximity to the various other resort amenities such casinos and nightlife.
The course may not be exceptionally attractive to most hardcore players of the game but if one would like to add an easygoing, casual golf adventure to their stay at the resort, this course will fill that need quite nicely.