One of the great Golf Architects is none other than Tom Fazio and his cleat prints can be found all over the Caribbean. One of his latest projects is the Baker's Bay Golf and Ocean Club, the latest residential project of Discovery Land Company.
Tom Fazio's design are made to ease the player onto the course. The course starts off with a gentle approach while gradually increasing in difficulty. The course really begins to get hard at the appropriately numbered Thirteenth hole. This Par 4 sits nearly sixty feet above sea level with dramatic views of said seas. The elevation goes through dramatic changes throughout the back nine, ending on a final eighteenth hole which is said to remind many of the great Pebble Beach course.
One of the most striking features of the course is the grass. From tee to green there is nothing but pure platinum paspalum. The striking green foliage runs from stem to stern across the whole course with the strategically placed bunkers being the only breaks. This uniform approach to course designs greatly increases the players options and lends itself to strategic thinking.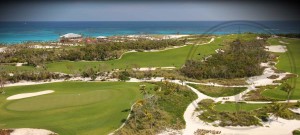 In addition to the sand, two seas come into play at Baker's Bay. The front nine holes start to straddle the shores of the Atlantic Ocean, don't forget about the ocean breeze. The final holes of the front nine end on the Sea of Abaco.
If all of this is getting to the player, there is nothing to fear. If one needs a respite, there is a lovely little rest stop, known as Sip Sip, providing all sorts of refreshments to refuel a tired golfer. It overlooks the Fourth Hole but is easily accessible from multiple holes on the course.
All things considered…Baker's Bay Golf and Ocean Club is truly a little slice of paradise.
*****
Baker's Bay Golf and Ocean Club
Great Guana Cay
Abaco
Bahamas