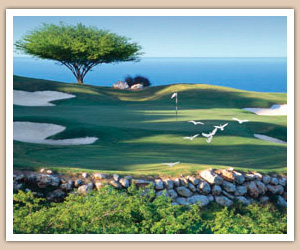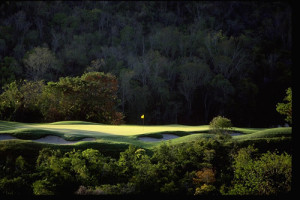 In the nineteenth century, a sugar plantation inhabited the land where the greens and fairways lay now. This plantation was owned by a beautiful woman named Anne Palmer. The mistress was said to be an evil and cruel woman, who abused her slaves, practiced voodoo and three of her husbands wound up a dead by her hand, if the stories are to be believed. Thusly, she earned the moniker: White Witch of Rose Hall.
The grim legend surrounding the land did not stop golf architects Robert von Hagge and Rick Baril from carving a championship level course on the sprawling property that is widely considered one of the best courses in Jamaica as a well as the Caribbean.
The eighteen-hole, 6,800 yard course, is top of the line. What will especially delight any island golfer is that all but two of the holes have an ocean view. Even the ones that don't will not be disappointed from the lush vegetation and high mountains.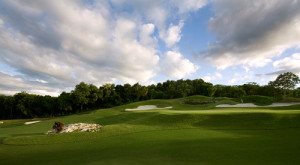 The most enchanting hole of the White Witch is the par three, seventeenth hole. The single tree adds a tempting centerpiece to the fairway and the omnipresent Caribbean breeze is ready to throw off your shot. The pristine white bunkers and the stunning greenery are also ready to add some more strokes to your score.
That is just one hole though. As they say…there is not a single wart on the face of the White Witch. Every hole is great and is enhanced by both the warm hospitality of both Jamaica and the Ritz-Carlton.
Be wary though…for legend tells us that the spirit of Anne Palmer still wanders across the lands that used to be her own, but that probably won't serve as an excuse for when you miss that putt.
Yeah, Mon.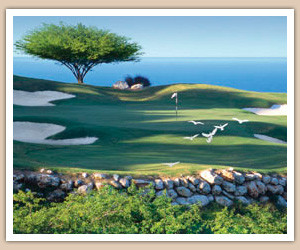 ****
White Witch Drive
Rose Hall
St. James
Jamaica