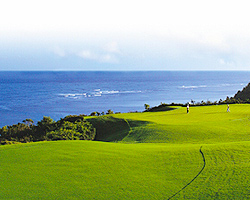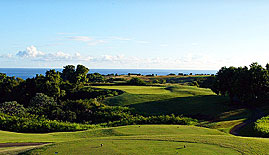 The Princeville is a massive resort located on the island of Kauai, one of the larger islands in the Hawaiian archipelago. There are all sorts of amenities offered there, from Horseback riding and luxurious living but one of the crown jewels of the resort the Prince Golf Course.
The Prince course was designed by the always superb, Robert Trent Jones Jr. Continuing the legacy laid down by his father, the Prince course is considered to be one of the finest courses in the state of Hawaii.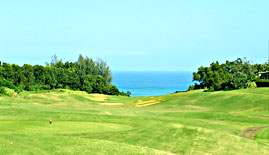 Special care was taken to integrate the fairways and greens into the natural, lush landscape of the island and it shows. The natural water features, coastal areas, and lush wilds of the course add a slice of the natural upon the sculpted features of the course.
The capstone of Prince is the seventh hole, par 3, said to be the Hawaiian version of the Cypress Point 16th hole. It is no joke as the hole sits on a 300ft cliff over the Pacific Ocean and is extremely windy, obviously. The cliff theme continues on the twelfth hole where the tee is situated on a cliff a hundred feet above the fairway. This may be for the best as all three sides other than the fairway are encased by rainforest. On the thirteenth, par 5. the green is cut directly into the rainforest. Clearly the cliffs are more than just outcroppings of rock, there are plenty of places where the ball can "fall off."
At the end, even though the course is tough, it still worth a play through as the beautiful scenery and greenery will make it all worth while. As one reviewer describes the Prince: like walking through a painting of a rainforest, with an emerald path down the center."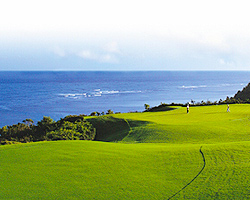 ****
Princeville at Hanalei,
5520 Ka Haku Road,
Princeville,
Kauai,
Hawaii (HI) 96722-3069,
USA