Scotland maybe a small country but is surprisingly strong in diversity. Links golf may dominate its ages old heritage but don't think for minute that every course is the same. Every course reflects a different part of that great land and Castle Stuart Golf Links represents the Highlands.
One of the factors inherent to the diversity of Castle Stuart is the rumple. Fairways can be flat for most of the area with hilly earth that can disrupt a shot. What can also disrupt a shot are the many bunkers that litter the course. Unlike many courses, Royal Troon included, the bunkers of Castle Stuart are naturally derived and do not fall into the limiting 'bracket left and right' design.
Like other Scottish courses, Castle Stuart is set upon the ocean with beautiful views. Many landmarks dot the surrounding landscape such as the eponymous Castle Stuart, Kessock Bridge, and the Chanonry Lighthouse. All of the these features dot the infinity holes in order to provide a sense of place for the player as he makes his way around the links and possibly to skewer their perspective.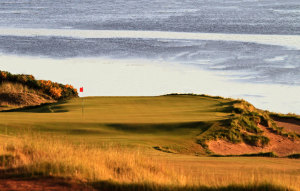 The whole course is designed with naturalism in mind. Fairways are capped with sand and the course utilizes substantial of wild-looking areas between the bunkers. Most notably of all, every hole is isolated on the course. The player only sees the next hole when the previous one has been completed. This gives the whole course feel organic and real, like the course was grown rather than constructed.
After traversing Castle Stuarts eighteen holes, and maybe getting a little practice in on the available putting greens or simply getting the last vestiges of play on the 350 yard practice range, players can unwind and relax in the Art Deco style clubhouse and enjoy hearty, highland fare at the restaurant and bar, or just have a pint and enjoy the serenity of the Highlands.