Close to the border with the Netherlands, near the shores of the North Seam is a unique European golf course known as 'hidden gem' by the likes of Nick Faldo and the great Arnold Palmer: The Royal Zoute Golf Club, located in the seaside resort of Knokke Le Zoute.
Described as a links course with its own unique twist, the Royal Zoute Golf Club has been a site for the game of golf for over one hundred years, starting in 1899. The only interruption being the outbreak of the First and Second World Wars. Two courses are offered at Royal Zoute, "l'Extérieur" (Championship Course) and "l'Intérieur" (Executive Course).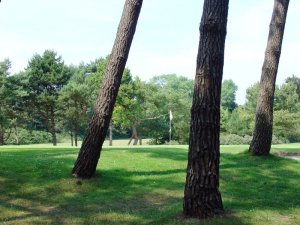 Both of them eighteen hole courses with Par 64 and Par 72 respectfully. The Royal Zoute Golf Club was altered after the conclusion of World War Two by an Englishman named Lieutenant Colonel Allen who put his own British flair into a course designed by Harry Colt. But there is more to the courses than meet the eye, as the holes are cleverly designed contours meant to send the ball where the player least expects it.
Be careful when losing your ball though, the greenskeepers of the course took special care to balance the needs of the golf course with the countrysides natural splendor. The care that the course takes to maintain the natural plants and animals native to the region has won the course several environmental accolades.
But do not think that Royal Zoute is all work and no play. The clubhouse offers seven prestigious rooms for all of its guests, not just golfers. So, If you are a golfer looking for something a little off the beaten path along with a craving for waffles, The Royal Zoute Golf Club may be just what you are looking for!
Caddiespad 14 • B-8300 Knokke-Heist