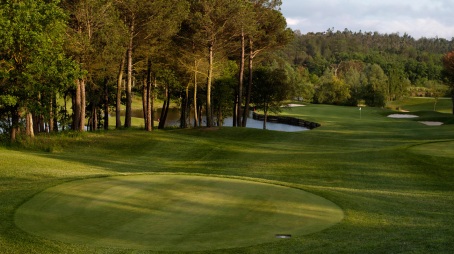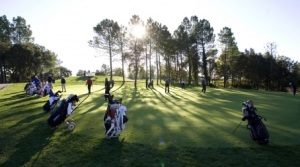 Ten minutes from Girona Spain is a course that has been rated as the number one course in Spain that hosted the Spanish Open twice and numerous other tournaments over the course of its short but already illustrious history.
There are two courses at Catalunya and the Stadium course is the most famous. Nestled in the foothills of the Pyrenees, the Stadium course is a beautiful course with lush greenery and beautiful fir trees. Don't let this fool you thought, the course spares no amateurs right from the get go. The fairways are crisscrossed with trees and the bunkers and lakes come into play on seven of the most challenging holes. What else would one expect from a course designed to challenge the PGA of Sawgrass. The challenge begins right at the first hole where nothing less than a straight shot will get the ball to the green and its all uphill from there.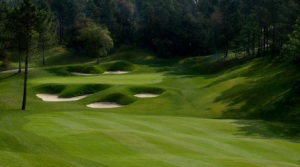 For those not looking to test their mettle on the fairways of champions, there is a gentler course available called the Tour Course. It is shorter than the Stadium course and is a little more forgiving of wayward shots. It's fairways are wide and its bunkers are strategically placed. Don't worry too much though, the Tour course was designed to be a healthy challenge for every caliber of player and maintains a proud legacy of its own by hosting the Final Stage of the European Tour Qualifying School since 2008.
If both courses are a bit too much to swallow, PGA Catalunya provides an impressive practice course for its players with a two thousand square meter putting green and practice bunkers with both grass and sand. For those wanting to get a feel for the land or just waiting for their tee time.
If what has been said about PGA Catalunya is true, it is well worth the wait.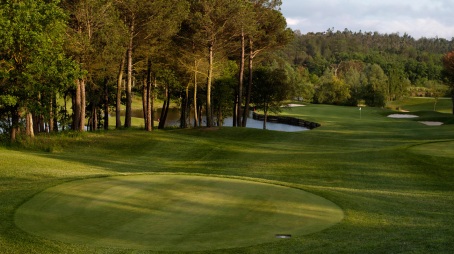 Carretera N-II km 701. 17455 Caldes de Malavella. Girona, Spain.