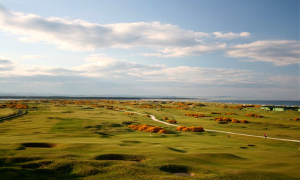 There is a course on the coast of Scotland. A golf course. The golf course. The home of Golf itself…St. Andrew's Links.
Golf has been played on these greens for  six hundred years, beginning in 1552 when the right to play golf was recognized by Archbishop Hamilton and its legacy continues well into the modern age. It has been played by golf legends across the generations, such as James Braid, Jack Nicklaus, and Tiger Woods.
There are seven golf course available at St. Andrews. The Old Course is the most famous, 6721 yards, Par 72. Being so old, the course is different from the more modern courses players might be used to. They are much larger, huge in some cases, and the surfaces are undulating and far from flat. There is little difference between the grass of the fairway and the green.
Being among the most prestigious golf courses on Earth, as one can imagine, there is quite a long line to tee off both for individual players and tournaments. Thankfully, it is still a public course, open to all, but if you wish to play at St. Andrews, especially the Old Course, book in advance and be prepared to wait a while for your turn.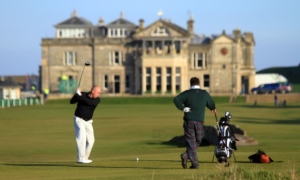 After following the footsteps of legends or simply enjoying the scenery, a visitor can work up an appetite. At St. Andrews, there are three clubhouses to be enjoyed, the St. Andrews Clubhouse, Castle Clubhouse, Eden Clubhouse. All of them provide a great variety of amenities, food and drink, and free parking.
For centuries players and visitors of all stripes have enjoyed St. Andrews for its legend and its views and may many patrons of golf continue to enjoy it for centuries to come.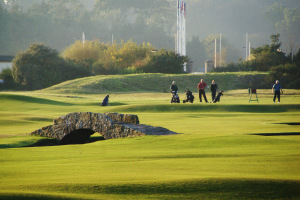 Website:
West Sands,
St Andrews KY16 9XL,
United Kingdom