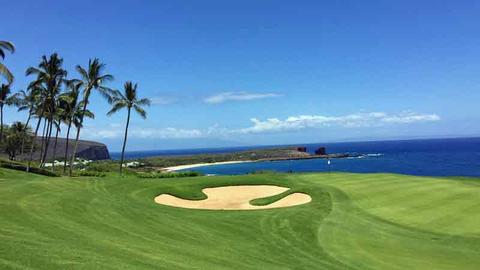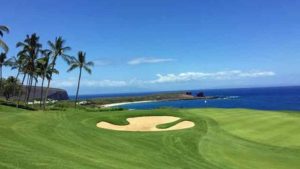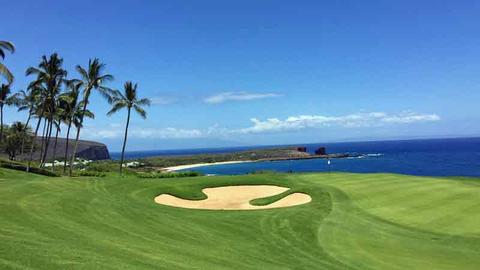 At the Resort Lanai is the Manele Golf Course, named after the bay upon which it rests. Manele Bay was designed by the incomparable Jack Nicklaus and keeping with his style, the course is designed with playability, accessibility, and challenge in mind.
Hawaii is renowned for its scenic views and when building this course, Ole Jack did not shy away from taking full advantage of this fact. Manele bay is regarded as one of the most scenic courses in Hawaii, if not the world. Lush, green fairways are encircled by black lava outcroppings, tropical flowers, and ancient cliffs diving into the blue waters of the Pacific. There is a certain ruggedness to the course that was maintained in order to pay tribute to the islands origins and present a unique challenge to the course. In fact, the course used to be named: The Challenge.
The Pacific Ocean is used as a water hazard here, and the naturals rocks as well. Accuracy is a key factor if one wishes to have a decent game. Half of the holes, particularly on the back nine, overlook the water, providing stunning views. Beautiful but deadly though as the twelfth hole requires exceptional daring. The shot requires driving ball across 200 yards of churning Pacific waves. The whole course is designed to be championship level. Not to worry, a five tier teeing system ensures that all who come to Manele will be able to play on the level that best suits them.
One last treat for player and visitor alike: If your visit happens to coincide with the winter months, you can spot whales right from the fairways!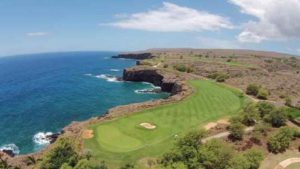 ****
Manele Golf Course,
Four Seasons Resort Lanai at Manele Bay,
1 Manele Bay Road,
Lanai City,
Hawaii (HI) 96763,
USA