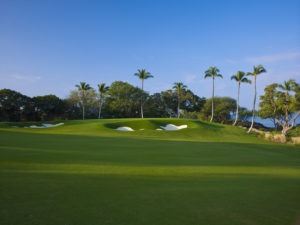 It is such a destination nowadays that it is hard to imagine that for a long time Hawaii was little more than a backwater. When Laurence Rockefeller, of the same legendary family, decided to build a golf course and hotel in 1965, many thought he was crazy. Maybe he was…but it paid off!
Two Generations of golf architects and three members of a legendary family have sunk their hands into the lava fields of Mauna Kea. Robert Trent Jones, Robert Trent Jones Jr and Rees Jones have all contributed to the design. Robert Trent Jones Sr was the original architect, commissioned by Laurence Rockefeller. He did too well a job though and the course was a touch too difficult for the average golfer.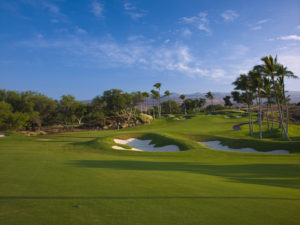 Eventually, Robert Trent Jones Jr, was brought in to ease the original plan and his brother came in 2007 to renovate and modernize the course. Despite of this, the course remains particularly tough.
The third hole is the most famous of them all, with its cliffside tee overlooking raging ocean upon a volcanic coast filled with hundreds of lost balls in its nooks. Accuracy is critical at Mauna Kea and it is recommended that players warm up on the courses driving range and putting green.
It doesn't help that the extreme topography of the Big Island can create extreme weather. Nonetheless, the course remains accessible to all levels of golfer.
In addition to its accolades and pedigree, the Mauna Kea has another unique honor added to its roll: The course was featured as one of the layouts in the PC video game Links, as series that was very popular throughout the nineties. As great as video games can be though, they don't quite measure up to the real thing. So get over to Hawaii!
*****
Mauna Kea Beach Hotel,
62-100 Mauna Kea Beach Drive,
Kohala Coast,
Hawaii (HI) 96743,
USA