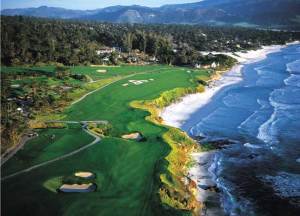 California is the third largest state in the United States, behind Alaska and Texas. It boasts a long history and proud heritage. One bastion of such legacy and history lies in the Pebble Beach Golf Links.
Pebble Beach is a prestigious resort on the coast of California which offers many outstanding amenities such a dining, shopping, and spas, but golf has been played at Pebble Beach for nearly a century, opening for business in 1919 after its completion by Jack Neville and Douglas Grant. During that time, the beautiful scenery of Pebble Beach is matched only by the strategy required to obtain a decent score.
Pebble Beach is an eighteen hole, par 72 golf course, hugging the rugged West Coast coastline and ranked as one of the best public courses in America. The course is of a classic affair, an out and back design. Legendary architect Jack Nicklaus considered Pebble Beach Golf Links to be his favorite course of all time.

Some of the holes, particularly in the interior of the course, are not bad holes by any means but at the same time are not all that special. That is quickly supplanted by holes seven through ten. Nestled along the edge of Carmel Bay, they are the signature holes of Pebble Beach and offer drop-dead gorgeous views of the ocean. Watch out for the wind factor though, and the eighth hole requires the player to shoot over a chasm of ocean.
Ever since the beginning, Pebble Beach Golf links has been the host to numerous prestigious tournaments from the USGA to the California open. As a result the greens are always in prestigious condition.
For many golfers, the chance to play on the Pebble is a chance of a lifetime.