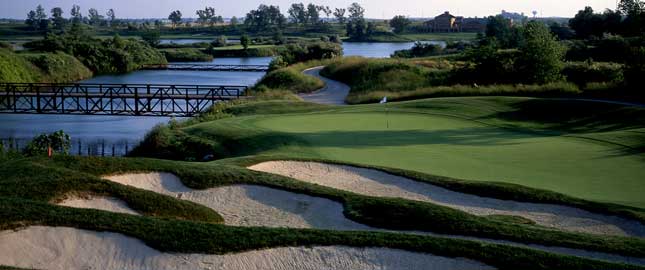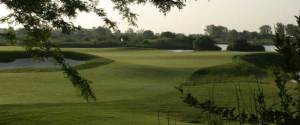 While not as illustrious as say, Scotland, golf has been enjoyed in the state of Indiana for over one hundred years with the founding of the Indiana Golfing Association in 1900. While this course is not as old as said Association, this long golf heritage is maintained by the Victoria National Golf Club.
Once upon a time, there was an old coal mine that had fallen out of use, but the Victoria's founder Terry Friedman had a vision. With the help of architect Tom Fazio, the former strip mine was transformed into the beautiful, tough but fair, golf course it is today.
Being on a former strip mine, the terrain is part of the charm at Victoria. If you're an amateur player who is lucky enough to score an invitation be sure to bring plenty of balls as water hazards come into play on fifteen of the eighteen holes. There a plenty of ways to play on those holes as there are a minimum of six tee boxes on every hole.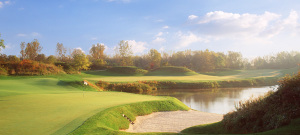 Victoria starts of with a challenging but forgiving par 4. The fairway's steady decline makes shots go a lot farther than they normally would. There are two bunkers ready to swallow your ball but the larger predator is the water hazard on the side.
The predator grows on the par 5, ninth. The green is surrounding on three sides by the water, if that wasn't challenging enough there are plenty of bunkers ready to mess up the 'perfect' shot.
Don't think you can escape the water as your finishing up a round at Victoria National, the hole has two tiers with water on one side, and fairway bunkers on the other. Hopefully the stunning view of the clubhouse and trees will be a nice way to wrap a day of fun at Victoria National Golf Club.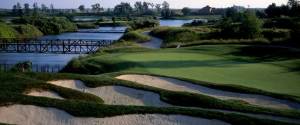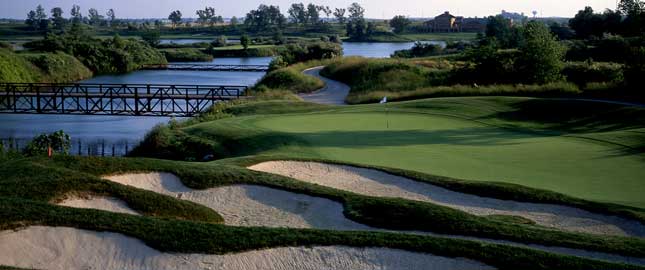 2000 Victoria National Boulevard
Newburgh
Indiana (IN)
47630