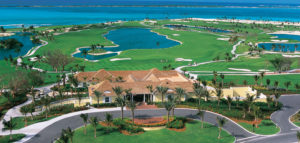 Among the most distinctive resorts in the Caribbean, if not the world, is the Atlantis Resort at Paradise Island. Television Commercials for this place are a ubiquitous feature of the airwaves, and for good reason. Atlantis is quite the distinctive location.
Among it's distinctive theme, aquariums, shark water slide is the Ocean Club golf course. The first Ocean Club was built on Paradise Island was built in 1962 when the American businessman Huntington Hatford came to the island that would come to be known as Paradise island.
The original course was designed by Dick Wilson with a complete 18-hole course that serve the resort for the next three decades. In 1994, South African mogul Sol Kerzner and updated the course with a design from the legendary architect, Tom Weiskopf.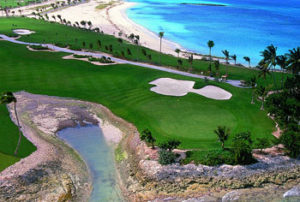 The updated course is 18-holes with a par of 72 and featured a new emphasis on ocean views. The greens are arranged as two 9-hole returns. As always with seaside courses, the wind is a constant factor while at play. The course was designed to be a healthy challenge but still accessible to the average player. The bermuda grass the surrounds the fairways is also a challenge as it can be quite difficult to find your ball after it is lost in it.
The most distinctive hole on the course is 208-yard, 12th hole, known as the Spyglass. The par 3 hole requires accuracy as the fairway takes one over inlet to a green surrounded with slopes and bunkers.
It may not be a lost city but the Ocean Club is truly a legendary find.