While Disney World has entertainment for all ages, no one will deny that its primary audience is the family. Well, if members of your family like golf, than there is no better to combine the two experiences than Disney's Oak Trail Golf Course.
Compared to other courses, such as Palm or Buena Vista, Oak Trail is very small. It is a nine hole course with a par of 36. The primary goal of this course is to introduce the young visitor to the world of golf. The course features tee offs for junior players. The smaller course is a walking course only with no carts permitted. A perfect little course.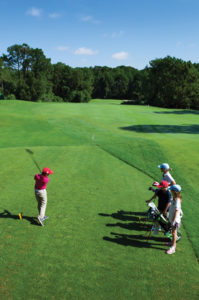 Oak Trail may have half the holes of a standard golf course but it does not do anything half-baked. The course is maintained by Arnold Palmer Golf Management and is certified as a wildlife sanctuary by Audubon. They did not skimp on the landscaping either. The course is dominated by undulating greenery. These dunes extend to the greens so do not think this course will not be that easy. What fun would that be?
But Oak Trail is more than that. The nine hole course on picturesque landscape is perfect for those who come to Disney on business and do not have that much time to devote to a full eighteen holes. What could be better?
Disney: Fun for all ages.