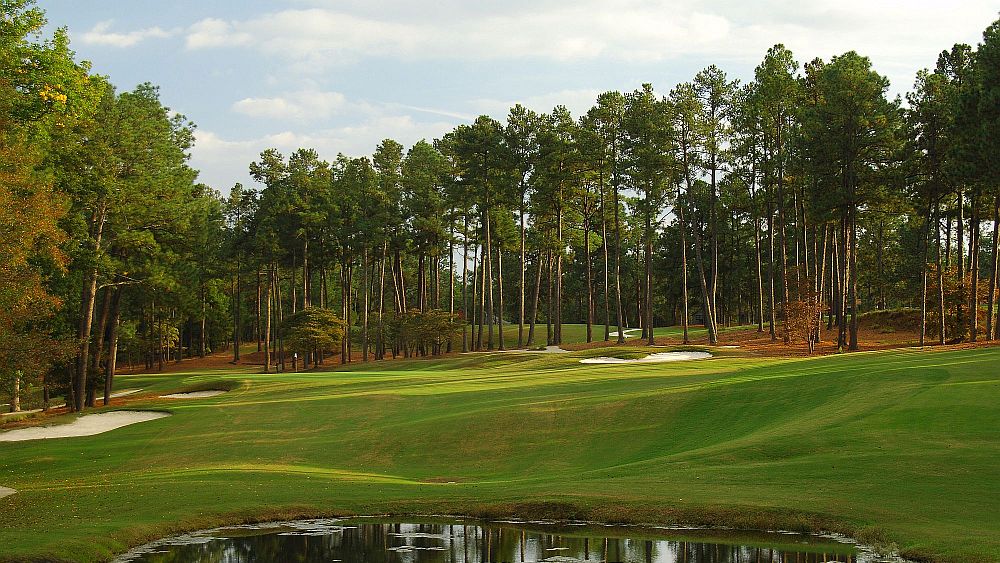 Pinehurst Resort's most famous course is the second course but the fact of the matter is, there are nine courses at the North Carolina resort for players to enjoy. The No 1 course at Pinehurst is true to its title as the very first golf course that opened for play over a century ago in the year 1898.
While the feel of Donald Ross can be felt all over the course, in actuality, several architects have had there share of designing and altering Pinehurst No 1. The first nine holes were designed by Dr. Leroy Culver and the back nine were designed by John Dunn Tucker.
While putting on the greens of Pinehurst No 1, players are following in the footsteps of illustrious guests such a John D. Rockefeller and President William McKinley.
Paying homage the links courses of Scotland, there are bunkers a plenty to be had on Pinhurst No 1, both on the fairways and around the greens. This course is very special as Donald Ross would continue to alter this course several times over the course of his life, up until his death in the 1940's.
The course could be considered a gentle course compared to Pinehurst No 2. The course is a relatively modest size at 6,093 yards and a total par of 70. The greens are nice, small, and flat and the fairways are a pleasant yet traditional challenge, but they are never flat. In fact, as with other Pinehurst courses, No 1 is quite scenic.
Pinehurst No 1. is old classic from another era of golf that has largely passed into history. An era of gentlemen's clubs and refined clubhouse and where top hats were part of the dress code. With the advent of newer, larger courses, this era is remembered in course such as Pinehurst No 1.
***
Carolina Vista Dr
Pinehurst, North Carolina 28374
Moore County