Would you like fries with that? Just kidding! For over one hundred years, golf has been played upon the greens of Flottback and Falkenstein. The golf club was established in 1906 and in 1930 the course was updated and expanded to its current form by the three golf architects Harry Shapland Colt, John Morrison, and Charles Hugh Allison.
Even though its built around Germany's capitol, you would never guess while traversing the green. The Club takes special care to preserves the environmental legacy of the surrounding legacy and create a sustainable style of play. For its efforts, the course has won several environmental accolades.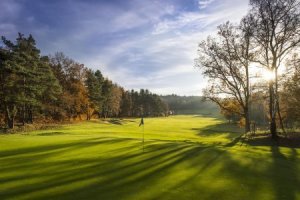 The course itself was designed with champions in mind and for many years has hosted the German Seniors Championship. Every hole presents a unique challenge and the tree lined fairways avoid become the dull, straight lined holes that many courses suffer from. Falkenstien is not a long course but it makes up for it with the hilly terrain, a lot of trees, and tight fairways. The front nine holes use the broad ridges and slopes in a very effective manner, forcing the player to make the shot over the crest of hills. On the sixth, there is an eighty foot elevations difference between the tee and the green, creating a very challenging hole. This may sound very intimidating but not to worry, for the club provides a well done practice course for its guests.
In addition to Championship level golf, the Hamburger Golf Club also promotes early athletic development by supporting young players of golf, both boys and girls, from a broad spectrum of ages by providing high quality training and coaching. The course is open to guests after all, so this time don't be afraid to bring Player Jr, to tee off on the hilly land of Falkenstein.
Hamburger Golf-Club e. V.
In de Bargen 59
D-22587 Hamburg